Version: 4.0.543 (10038690)
Languages: 74
Package: com.adguard.android
Downloads: 244
38.89 MB (40,779,384 bytes)
Min: Android 5.0 (Lollipop, API 21)
Target: Android 12 (API 31)
arm64-v8a + armeabi-v7a + x86 + x86_64
nodpi
Uploaded
January 30, 2023 at 7:12PM UTC
by ji15
We haven't talked about AdGuard's mobile apps for a long time, but now we're ready to let you in on what we've been up to.
The Android app has been improved so that everyone can enjoy its perks. It is now much simpler to use for people without any technical background and more packed with features for those who want complete control over their data.
Moreover, we've completely rewritten the app so that it runs way faster and smoother.
Disclaimer: this is a Nightly version — so the app contains more bugs than usual (here's the list of known issues). If you're not ready to report bugs, better not take the risk and wait for the release — we're actively working on making the app more stable.
Updates useful for everyone
Full redesign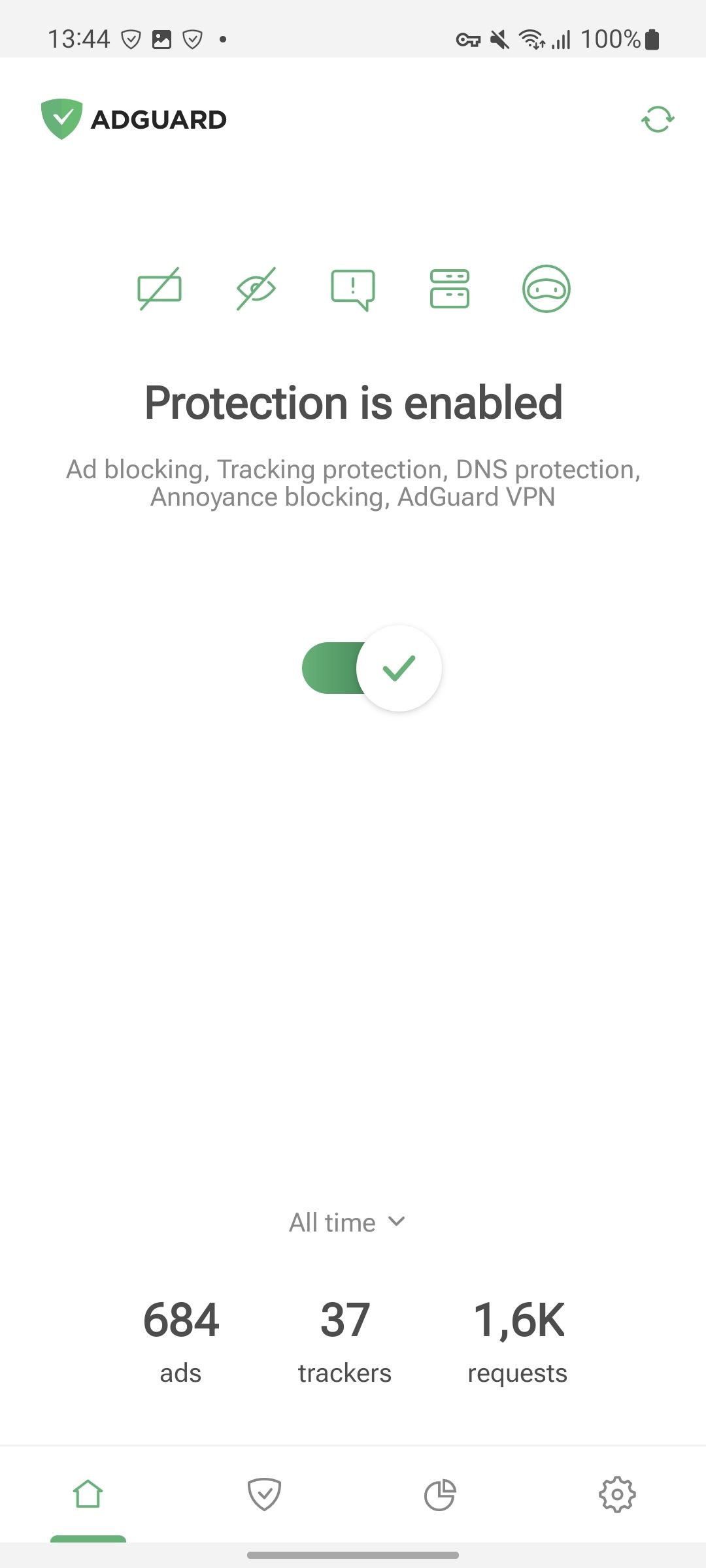 Originally, AdGuard for Android has a plethora of features — it serves as an all-purpose tool for blocking ads, trackers, and other threats. While redesigning it, we tried to simplify access to the "core" features, so that all of them are available with a single tap. Now, to turn on Ad blocking, Tracking protection, Annoyance blocking, or DNS protection along with their filters, you can just tap the corresponding icon above the main switch.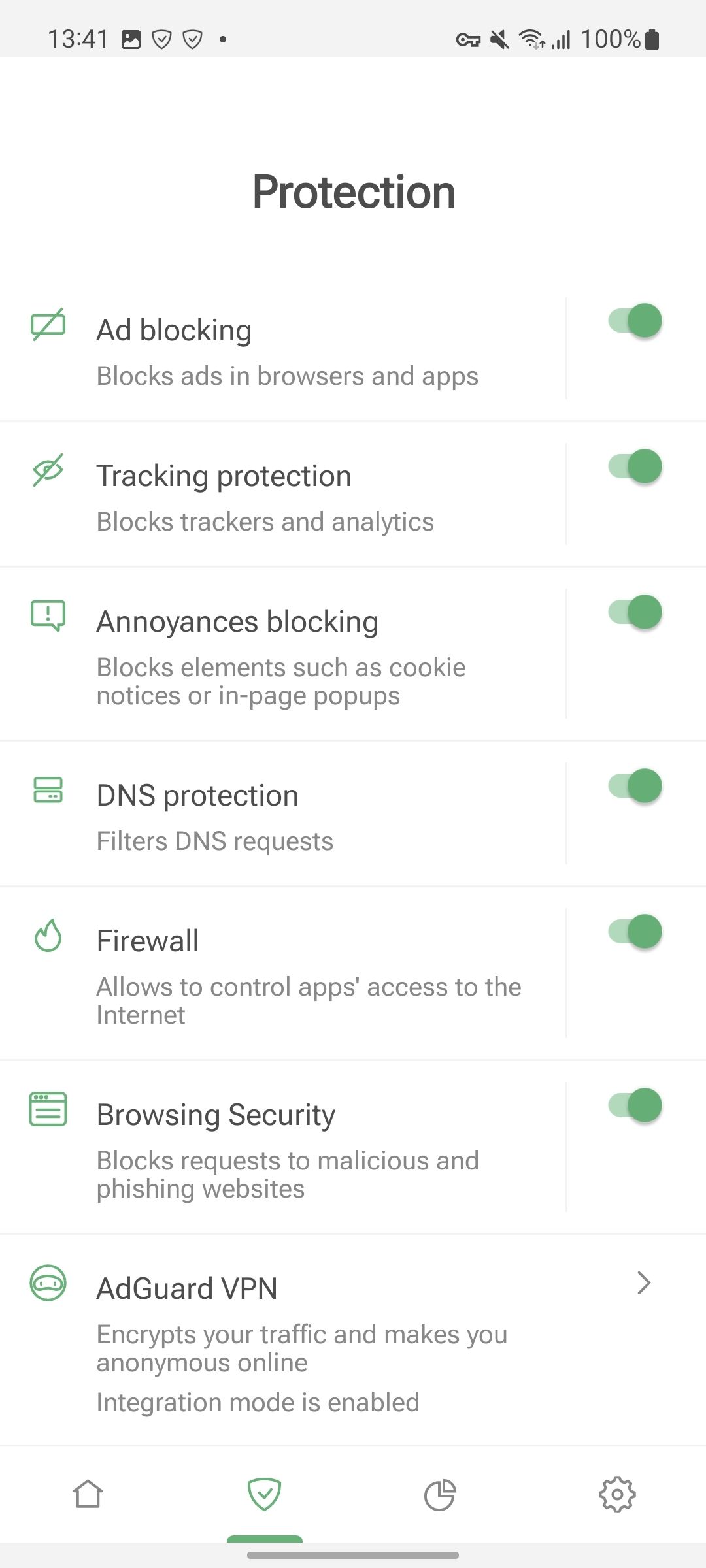 We've also added the Protection section. You can find it by tapping the shield icon at the bottom of the screen. Apart from the above-mentioned "core" features, this section allows you to manage Firewall, Browsing security, and even AdGuard VPN. On the Protection screen, you may turn these modules on or off as well as easily access their settings.
Detailed statistics
This is not news that apps nowadays do whatever they want with your data and leak it all over the place. And it's quite logical that the user wants complete control over their data. With AdGuard, it's already possible — and now we're introducing a feature that would provide even more transparency! Which apps and companies would potentially leak your data?
With Statistics, you'll now be able to track which apps send your data to global corporations — and block or allow some requests on the fly.
Firewall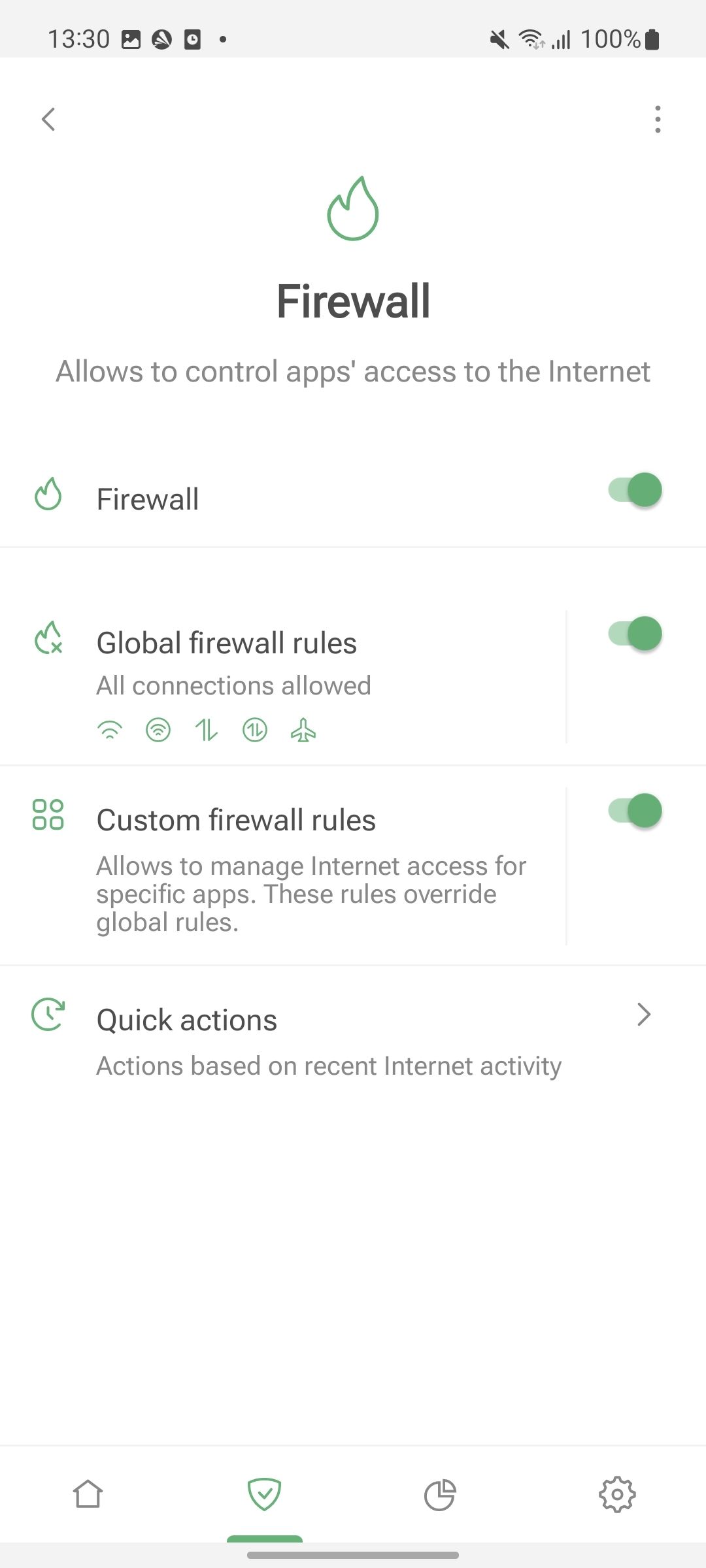 The Android app used to have a functionality similar to Firewall earlier, but it was hidden deep inside the app — in the App management section. Now it's become a completely standalone feature with well-defined scope of actions.
Firewall allows you to control the apps' access to the Internet: decide which apps can use mobile data or Wi-Fi with screen off, get real-time notifications on app activity, and update firewall rules in the Quick actions section.
The Nightly version is filled to the brim with new features, and this is just the beginning. If you are curious to learn more, read the blog post — there we cover the advanced features in detail and share our plans for the future.
Test it yourself
We need your feedback! Download the Nightly version of AdGuard v4.0 for Android and (if you're using AdGuard VPN) the Nightly version of AdGuard VPN, report issues, and send feature requests. Here's the info you might need.
How to report an issue
If you've noticed a bug, please tell us about it by creating a GitHub issue. Describe what you've found and share your logs with devteam@adguard.com — this'll make it easier for us to address the problem.
To collect logs, tap Settings → General → Advanced and select Export logs and system info.
There are things we're already working on — they don't need to be reported. Please consult the list of known issues if you're about to send us a bug report.
Vote for feature requests

On GitHub, you can leave your reactions on feature requests. That'll help us find out what most people are interested in. To leave your reaction, select the feature request you like and use an emoji to support its implementation.
In conclusion
We've never devoted this much attention to a single nightly version — and for a reason. They are usually of interest only to a small number of die-hard enthusiasts. But this time is different. This version heralds huge changes that will soon come to AdGuard Ad Blocker for Android for a lot of people, and we want to do it right.
With your help, the help of the community, we will be able to track down every single bug and tweak all the knobs just right, so that once the update ships to release, millions of AdGuard users will find it perfect.
This release does not have a Play Store Description, so we grabbed one from version 3.0.291:
AdGuard for Android is an ideal solution for Android mobile devices. In contrast to other ad blockers, AdGuard doesn't require root access and it provides a broad spectrum of features: filtering in apps, apps management and much more.
AdGuard is a unique no root ad blocker for Android that removes ads in apps and browsers, protects your privacy, and helps you manage your apps
Easy to set up and get going, but powerful and highly customizable — it has everything you'll ever need from an Android adblock tool, and it works both on rooted and unrooted devices.
Blocks ads everywhere
Block throughout the whole system. This includes video ads and ads in your favorite apps, browsers, games, and on any website you can imagine. Dozens of ad filters are available to you and are updated on a regular basis, guaranteeing the best filtering quality.
Cares about your privacy
We value the privacy of your personal data above anything else. With AdGuard, you will be safe from online trackers and analytics systems that lurk on the web trying to steal your sensitive information.
Saves your traffic
More ads blocked means fewer ads loaded. Fewer ads loaded means more traffic saved. Simple math by AdGuard! Download the apk file, install the app and spend your traffic on things you like instead of wasting it on voracious ads.
You stay in control
It is your device, after all, and you decide what gets filtered and what doesn't. A wide range of settings — from basic to 'pro' — as well as an Apps Management tool will help you customize the filtering to your liking.
Manage your apps
You can completely shut down cellular/WiFi access for any app and just as easily as restore it. Thus, you control which apps transmit data.
Customize filtering
Don't want a particular app or browser to be filtered for whatever reason? No problem — one tap and it is excluded from filtering.
FAQ
What is the difference between AdGuard Content Blocker and AdGuard for Android?
The difference is huge. Content blockers in general are not only limited to specific (and few) browsers, but are much less potent in terms of ad fighting tools they have at their disposal. AdGuard for Android, being a standalone app, can block ads in all browsers and even in other apps, and the filtering quality is so much higher.
Why is AdGuard for Android not in the Google Play Store?
Google has a very peculiar policy towards ad blockers in Play Store. Basically, it means that any app that can block ads across the device is not allowed there, leaving flimsy content blockers as the only option. AdGuard has been removed from the Play Store as well.
What's the difference between free and Premium versions of AdGuard for Android?
While the free version is excellent at removing ads from browsers, it doesn't filter other apps' traffic. It also doesn't have the Safebrowsing feature.
I can still see ads in some apps and on some websites. What do I have to do?
Most likely, you need to enable the HTTPS filtering. A lot of ads are loaded via HTTPS, and AdGuard is capable of blocking them, too. Go to Settings --> HTTPS Filtering and turn it on. The other thing to do is to make sure you use the 'High quality' filtering mode (Settings --> Advanced).
Do I need root access?
No, it is not necessary. Unlike many other ad blockers, AdGuard can work in VPN mode, which lets it block ads even on non-rooted devices.
Can I use a different VPN app along with AdGuard?
Unfortunately, it is impossible to run two VPNs at the same time on Android, but there are some ways to circumvent this limitation. If your device is rooted, or if you only care about blocking ads in WiFi networks, you can switch AdGuard to proxy mode and let any other app to use VPN. Additionally, some VPNs allow the use of upstream proxy (e.g., PIA VPN, Nord VPN) — check if your specific VPN provides this option.